Rebekah Vardy has gracefully emerged from the shadows, breaking her silence in the wake of the much-anticipated release of Coleen Rooney's intriguing Wagatha Christie documentary, which recently made its debut on Disney+.
Rebekah's response to the documentary was a tranquil one, seemingly unburdened by the surrounding buzz and revelations. The star, renowned as the wife of footballer Jamie Vardy and the mother of five, opted to share glimpses of her family holiday, an unspoken statement of her composure.
In one image, Rebekah's three children reveled in the joys of a beach play area, and she accompanied the snapshot with a caption that encapsulated the essence of their carefree moment: "Living their best lives." It was a testament to her unwavering focus on the joys of family life.
A selfie followed, featuring Rebekah in a moment of serene repose, elegantly shaded from the relentless scrutiny. With a touch of humor, she captioned the image with, "As am I," punctuating her sentiment with a laughing face emoji and two champagne glasses. The photograph also provided a glimpse of her resplendent jewelry collection, which included a chain-link necklace adorned with a front-facing clasp and glittering stud earrings. Her silver watch and a cluster of beaded bracelets were also on display, offering a glimpse of her signature style.
While Rebekah did not directly address all of Coleen's revelations, her social media posts conveyed a sense of unaffected serenity. She subsequently shared another picture, this one featuring herself and four of her children, all dressed up and ready for a night out on the town. "Precious memories," Rebekah captioned the image, evoking the sentiment that life's simple pleasures take precedence over the noise of external gossip. Encouraged by her fans' positive responses, she received accolades for choosing to savor her vacation and remain unperturbed by the intrigue surrounding her.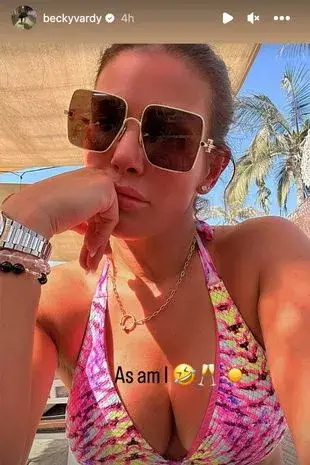 One admirer praised her image, saying, "What a fabulous photo Becky….hope you all have a great time x." Another admirer astutely observed, "Loving life whilst others are stuck in a Disney fairytale still reliving the past." Supporters uplifted Rebekah, with one fan encouraging her to "keep [her] chin up," while another playfully speculated, "Are you going to make your own documentary?"
On Wednesday, the long-anticipated three-part documentary series was finally unveiled on the Disney+ streaming platform, compelling eager viewers to delve into Coleen's perspective on the high-profile trial. The new Disney+ series centers around a legal dispute that ignited in October 2019 when Coleen, aged 37, took to social media to make a stunning revelation. She accused her fellow WAG Rebekah, aged 41, of selling stories about her personal life to The Sun, alleging that she had planted fake stories on her own social media channels, expertly controlling who could view this fabricated information. Surprisingly, these concocted tales found their way into the tabloids.
Rebekah vehemently denied the allegations of leaking information and subsequently filed a libel lawsuit against Coleen. This high-profile high court trial reached its conclusion in July of the following year, with the judge ruling in favor of Coleen. The aftermath of this legal drama spawned numerous adaptations for the stage and screen, further cementing the sensational trial in the annals of public interest.